Amy is settling in well to the Riva No.6 team part of Lipoliscious Ltd.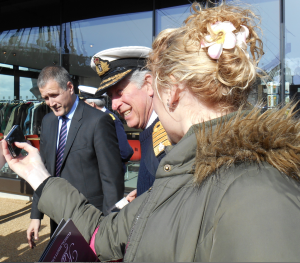 She decided today that she would start at the top when promoting our services. Who better to give a brochure to than HRH Prince Charles during his Mary Rose visit.
Our cheeky Amy even told him we were offering 10% off traditional wet shaves and gave him her business card. HRH laughed and chatted to Amy.
Thank you Sir for making our day. We look forward to welcoming you to Riva No.6 someday soon.
Amy you are a star!
Thank you too to the lovely crowds at The Mary Rose today for congratulating Amy on her cheekiness!  We're looking forward to arranging the pamper afternoons for the Navy guys and girls too.  Don't forget we support Help for Heroes and all services  personnel receive 10% off treatments at Riva No.6 and Lipoliscious Ltd.